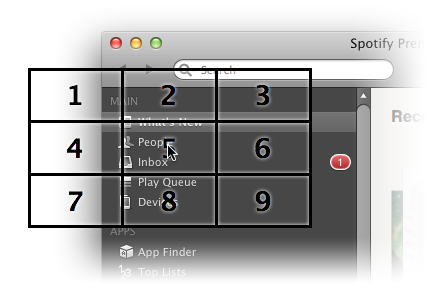 Couch Slouch enables you to fully control your Mac using your TV's remote control.
Map remote control buttons to keyboard shortcuts and key presses.




Launch applications — great for assigning to those useless red, green, yellow and blue buttons on your remote control!


An application's keyboard navigation support getting you down? Use Mouse Grid (right) to quickly and easily jump the cursor around the screen and click on what you need.


The Behaviours feature lets your Mac and Home Theatre live in harmony. Have your TV switch on when your Mac starts up and off when it shuts down, or use the scripting feature to launch your favourite Home Theatre app automatically when you switch sources to your Mac. The possibilities are endless!


For advanced users, Couch Slouch also supports scripting. You can have Couch Slouch trigger scripts when various events happen, and you can write scripts to have Couch Slouch drive your AV setup. See the Scripting page for more details. 


Couch Slouch is still in its infancy. Got a great idea? Let me know!
Demo Video
Rather than simply tell you about what Couch Slouch can do, let me show you! The demo video below walks through the major features of Couch Slouch.
Like what you see? Give Couch Slouch a try!